Where to meet?
Exhibitions
Round Top Antiques Fair
Fall 2023: Oct. 14 - Oct. 28
The Halles At Round Top
High Point Market
Fall 2023: Oct. 12 - Oct. 18
Verellen Furniture
Belgium
By appointment
- A little tale -
Her story.
Sabine is an abstract artist from Belgium (1964). She tries to let her work speak to those who like modern minimalist design. Her life as an artist began long before she actually started painting. As an autodidact she started out creating her first piece of an art in 2002.
She is mostly inspired by nature, with all its different whims, colours and surfaces. By painting layer after layer; she generates a balanced and unflustered composition. While her paintings might be quite untamed, the shades she uses are often subtle yet charismatic. If she had to choose one word to describe her art, she would have to say 'wabi sabi'; a Japanese term for "imperfect, impermanent, and incomplete".
Spirituality or reality, a fantasy world and her freedom. When she is painting, she is in a meditative state of mind (which is called "a chi kung state of mind"). That is when she feels most balanced. She is in control of her energy, from which she can move slowly and transfer it into flowing movements. A combination of energetic movements, a coherence of strength and softness, with all kinds of materials such as acrylic and charcoal.
Her studio is her sanctuary. In her studio she often experiments in a playful and messy way with different tones, different consistencies and mixes of paint and materials. To obtain unique structures in her work, she has crafted her own painting brushes using a wide range of dried tropical leaves, branches and rope.
The pieces she creates are mainly divided into two collections; the 'Natural Collection' and the 'Colour Collection'. The Natural collection is an assembly of monochromatic, perfect imperfect pieces with hues and textures that are close to nature.
The 'Colour Collection' contains stronger tints. This collection is a mix of refined pieces, as well as pieces that express bolder statements because of the use of intense streaks of colourful paint.
If you would like to know more about her work, her inspiration or a specific piece of work. Please get in touch. She'd love to tell you more about the process of crafting her art and give you an insight in who she is and how her pieces take shape.
The perfect sidekick. Head of quality control & the perfect inhouse model.
Have you met Bob?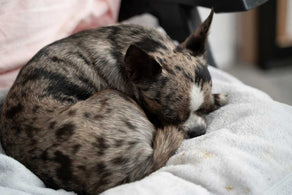 Disclaimer.
Just to make sure.
Bob is not included when buying a painting, but if you are living in Belgium he'll gladly accompany Sabine when she comes to deliver your piece of art. Sorry, if you are not living in Belgium, Bob is not fond of airplanes, so he won't be there when you receive your soon-to-be favourite painting. We can send pictures if you want to? 
The atelier.
Sneak peek